Lawyers based in Venice
---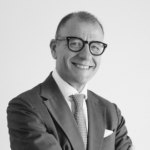 Andrea Bortoluzzi
Partner
A return to our roots in employment law
With the opening of the new office in Venice and new Partner, Andrea Bortoluzzi, the Firm has continued its plans for national expansion, strengthening its presence in the Triveneto region in which it already assists various companies.
Together with Andrea Bortoluzzi and his team, the Firm aims to offer companies comprehensive advice in all areas of HR law, so that this service will no longer be considered a cost to companies but will be seen as a key to company growth.
Andrea Bortoluzzi has more than 20 years' experience in advising companies in all aspects of employment law, and has a profound knowledge of the industrial history of the Veneto region, especially with regard to Venice and Treviso. Together, it will be possible to further develop a specialised national and international employment law service across the region, supported by a tremendously innovative and structured organisation, which will enable companies to improve their HR management.