Visit the website dedicated to Futuhro ®, our solution for all your HR Management needs.
Futuhro®, human resources management just a click away.
From recruiting to paychecks and employment contracts: we have created a solution for HR management that digitises processes thanks to an innovative software that puts trained professionals at your disposal who know your organisation best.
Futuhro® allows you to manage all HR issues through a single access point: the Cloud software integrates all the administrative tools, guarantees data security, and allows you to monitor deadlines and easily access the advice of our professionals.
The software to digitise HR management processes
Futuhro® provides tools to:
allow you to always have complete personnel files at hand and to manage attendance (clocking in and out, vacation requests, permits and remote working, etc.); 
process payroll;
recruit personnel; 
prepare contracts and manage deadlines;
define and manage remuneration and bonus policies;
plan development and training courses; 
calculate labour costs and budgeting; conduct internal surveys.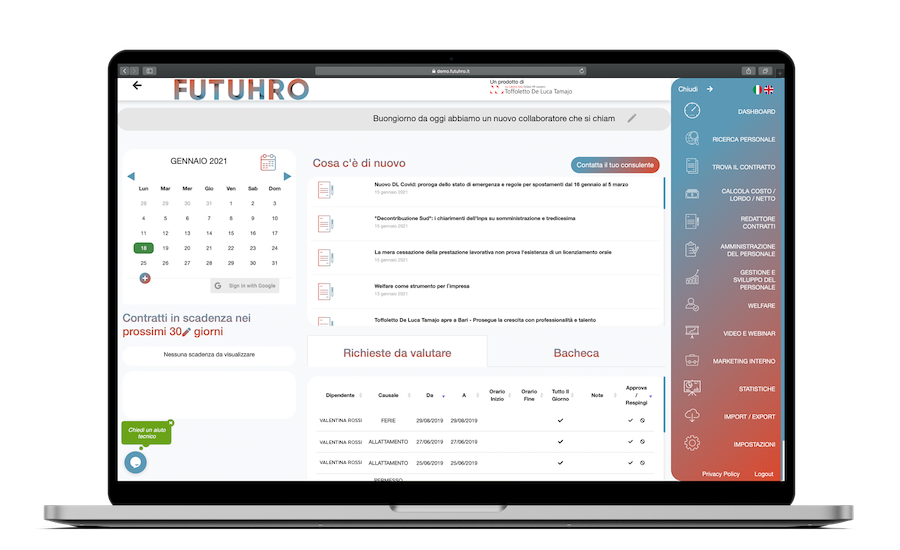 The Futuhro® platform can be accessed at any time and from any device via a desktop or a dedicated app, which also records attendance and allows you to review payslips and other documents, and is available in both Italian and English on Apple App Store and Google Play Store.
Our consulting services
You will not only have software at your disposal: our professionals will be by your side every step of the way, standing ready to address your concerns any time and for every need.
From reviewing payslips and to requesting for remote working, from employee welfare benefit plans to annual leave. Our consultancy services perfectly integrate with the software to organise HR processes in a simple and efficient way, thus reducing the costs of the most important resource for your organisation: human capital. 
How much does it cost?
The service is always tailored and provided on the basis of a fee agreed with the client, primarily based on the size and complexity of the corporate organisation as well as on the number of requirements to be managed during the year.
Contact our dedicated team: +39 02 72144300 | info@futuhro.it
Discover Futuhro