The Cloud that allows companies to download customised contracts generated on demand for the management of employment relationships and more.

An online platform that allows organisations to download customised contracts generated on demand, updated, and drafted after answering a few basic questions. On the basis of the answers provided from time to time, we can generate different documents, including complex ones. The documents we create are checked and edited to avoid typos or contradictory information.
It is the solution that Toffoletto De Luca Tamajo has devised for its clients: selected among the finalist projects of the Financial Times Innovative Lawyers Report Europe and recognised in the Financial Times Innovative Lawyers Report Europe for two categories: "Highly commended" for the category "Business of Law – New products & services" and "Commended" in the category "Business of Law – Technology". The firm also received a mention as one of the top 50 "Most innovative law firms in Europe".
Initial audit and set-up
Our professionals will be at your disposal to conduct an initial audit on your employment contracts and support you in setting-up the platform, in order to ensure that the contracts uploaded to the Cloud are:
drawn up according to your layout standards;
available in one or more languages;
downloadable in non-editable PDF format to ensure quality (with the option of affixing a digital signature);
Cloud-based software
The platform is accessible from any browser and can be customised with the distinctive elements of your corporate identity. From the platform, you can download on demand any type of contract (employment, agency, but also procurement, license, distribution, non-competition agreements, variable bonus assignment, etc.) by answering only a few simple questions.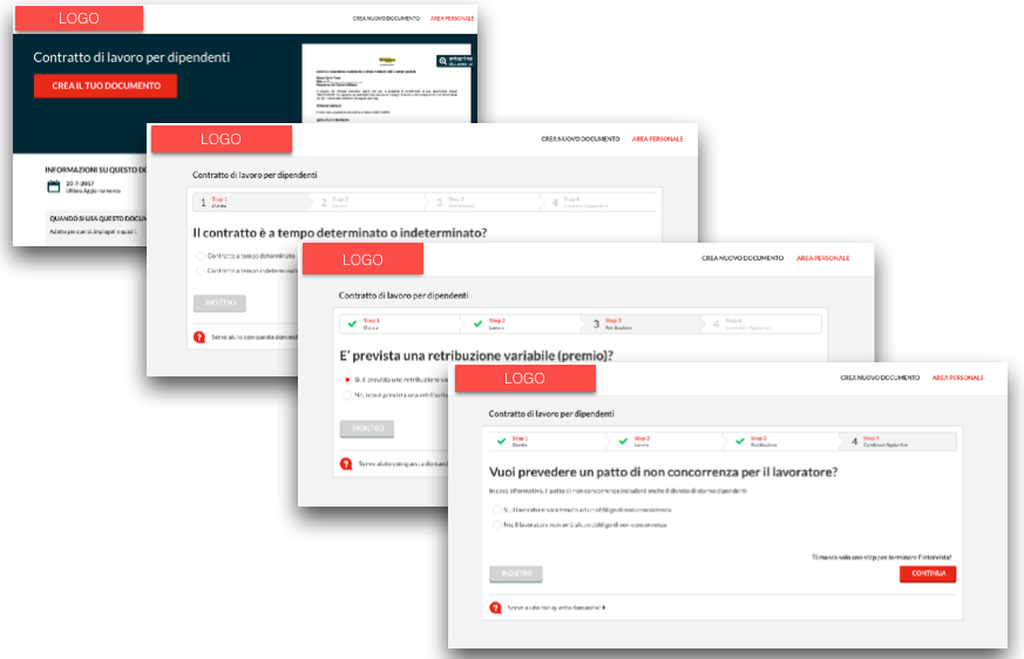 You can also archive your contracts in a database with search function, and connect the platform to your management software.
On demand, tailor-made contracts: what are the real benefits for the company?
The service significantly improves efficiency and quality control, as well as validity and uniformity on contracts.
Our system does not contain templates but allows you to generate the right contract for the relevant case in just a few minutes, in non-editable form, thus ensuring that the relevant signatures are affixed on an approved and updated document.
The Toffoletto De Luca Tamajo professionals are available to provide additional information and to provide a software demo. Contact us now for a free demo!
Contact our dedicated team:+39 02 72144560 | contrattidigitali@toffolettodeluca.it